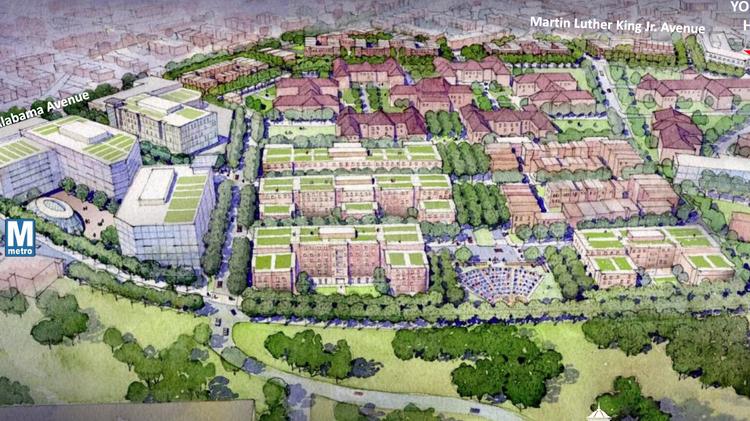 Courtesy of Washington Business Journal
Go
HERE
for the full
Washington Business Journal
article by Michael Neibauer.
Excerpt:
While 21 of 37 St. E's East buildings are expected to remain as the campus is overhauled, buildings 89, 94, 95 and 100 stand out as clearly visible from Martin Luther King Jr. Avenue SE. Those four historic structures, each built in 1902 as part of the psychiatric hospital's expansion, were recently stabilized in preparation for their eventual reuse — one as a Microsoft Innovation Center, another as French lighting firm Citelum's U.S. headquarters.
The Department of General Services has issued a RFP for a contractor to "restore the buildings' roofs and the exterior facades to make the buildings look less vacant and generally refreshed." All building windows will be covered with "brick-colored painted plywood." Window trim will be painted. And the existing landscaping around each building will be "spruced up."
The four 1902 buildings, referred to as the "Richardson Group," are each two-story, Italian Renaissance Revival-style structures originally designed to house patients in a home-like atmosphere. They sit in front of the Maple Quadrangle.
Proposals are due by Aug. 3. DGS has set a goal of 10 percent participation in the work from residents of Wards 7 and 8.