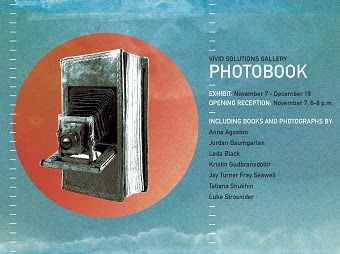 Photobook
brings together diverse book projects and photographs from those books in an exhibition that asks how the the presentation of a photographic image influences its effect on the viewer. How do we consider an image seen in a book that we hold as opposed to a photograph in a frame hanging on a wall?
The exhibit presents seven books and 12 prints selected from an open call. Subject
matter and book styles vary among the selected projects; the show will
include idiosyncratic documentary style photography alongside black and white still lives, and traditionally bound books next to books that play with the formal conventions of the medium.
Learn More

Vivid Solutions Gallery
(inside the Anacostia Arts Center)
1231 Good Hope Rd SE