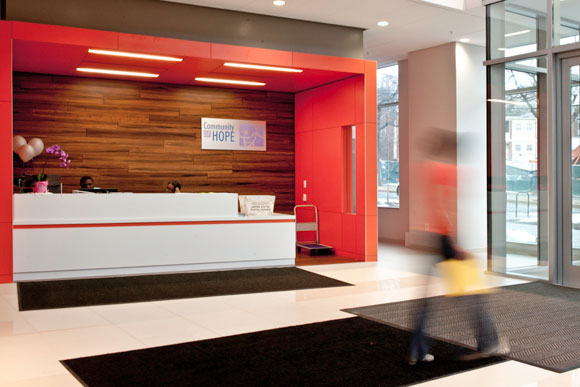 PHOTOS COURTESY OF WESTBAY PHOTOGRAPHY/COMMUNITY OF HOPE
Go
HERE
to read the full article by Christina Sturdivant for
Elevation DC
.
Excerpt:
D.C. nonprofit Community of Hope has opened the Conway Health and Resource Center—a state-of-the-art, 50,000-square-foot center at 4 Atlantic St SW, in the Bellevue neighborhood.

Community of Hope's healthcare initiatives have reached large numbers of individuals in Ward 5 at the Family Health and Birth Center and in Ward 1 at the Marie Reed Health Center, COH found it necessary to increase their reach across the city.

"When we were looking to expand access, we particularly looked at a report done by the Rand Institute that identified certain parts of town that had limited access to healthcare and zip code 20032 was one of the specific zip codes that were identified," says Kelly Sweeney McShane, President and CEO of Community of Hope.

Unfavorable health outcomes and disparities run rampant in Ward 8, where residents experience higher rates of medical issues from chronic disease to infant mortality.