From the DC Department of Housing and Community Development
website
:
Rundown Property Removed From Development Site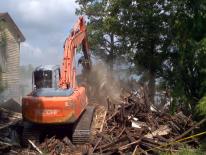 The Department of Housing and Community Development (DHCD) demolished a rundown single family home located at 2228 Martin Luther King, Jr. Ave., S.E. The property, which was built in 1905 and condemned by the District in 2006, was part of a Solicitation for Offers (SFO) for development of the Big K Site issued in June.
Demolition also occurred on a rear addition of 2234 Martin Luther King, Jr. Ave., S.E. Additional work to stabilize the property has started. The rear porch at 2238 Martin Luther King, Jr. Ave., S.E. has been demolished.
No site visits will be scheduled. Construction personnel are prohibited from providing access to the site within the security gate. However, there are several vantage points outside of the security gate to allow a variety of viewpoints.
All submissions must be received by 3 p.m. Friday, September 7, 2012. Application materials are available in CD format for pickup at DHCD's Housing Resource Center located at 1800 Martin Luther King Ave, SE. Printed copies of the application will made available upon request.